Massive Bio, which aims to improve the lives of people with cancer with oncology-focused artificial intelligence technology, announces the publication of the latest edition of Massive Bio magazine. The new issue features updates on the latest developments in oncology and clinical trials, as well as news about Massive Bio's recent efforts to help people with cancer find their best treatment options. Here's a brief look at just a few of the stories included in the new issue of Massive Bio magazine.
Are You Getting The Best Treatment?
Many new cancer therapies are approved every year, but research indicates that not all patients have equal access to the latest breakthroughs. How can you be sure you're getting the most-advanced treatment?
An Interview with Cagatay Culcuoglu
Massive Bio Co-Founder Cagatay Culcuoglu is the company's chief operations officer and chief technology officer. He spoke with us about how Massive Bio is using artificial intelligence in new ways to help cancer patients find hope.
Update on Esophageal Cancer
April is Esophageal Cancer Awareness Month. Recent research suggests that this disease is transforming in several important ways. For one, doctors are diagnosing esophageal cancer more often in groups of patients who infrequently developed the condition in the past, and the disease's incidence is rising in some parts of the world. What's more, there are two major forms of esophageal cancer, and the type of malignancy diagnosed most often is changing around the globe. These two trends appear to be intertwined.
A Cure For Loneliness?
Living with cancer can be a lonely experience. Unfortunately, studies offer evidence for what many patients already know: Feeling isolated from others can make it harder to cope with cancer, both psychologically and physically. Loneliness goes hand in hand with stress, which is bad for overall health. Can technology, in the form of apps created to provide companionship and support, help people with cancer feel less lonesome?
Massive Bio magazine can be read on the company website (massivebio.com) and on magazine platforms.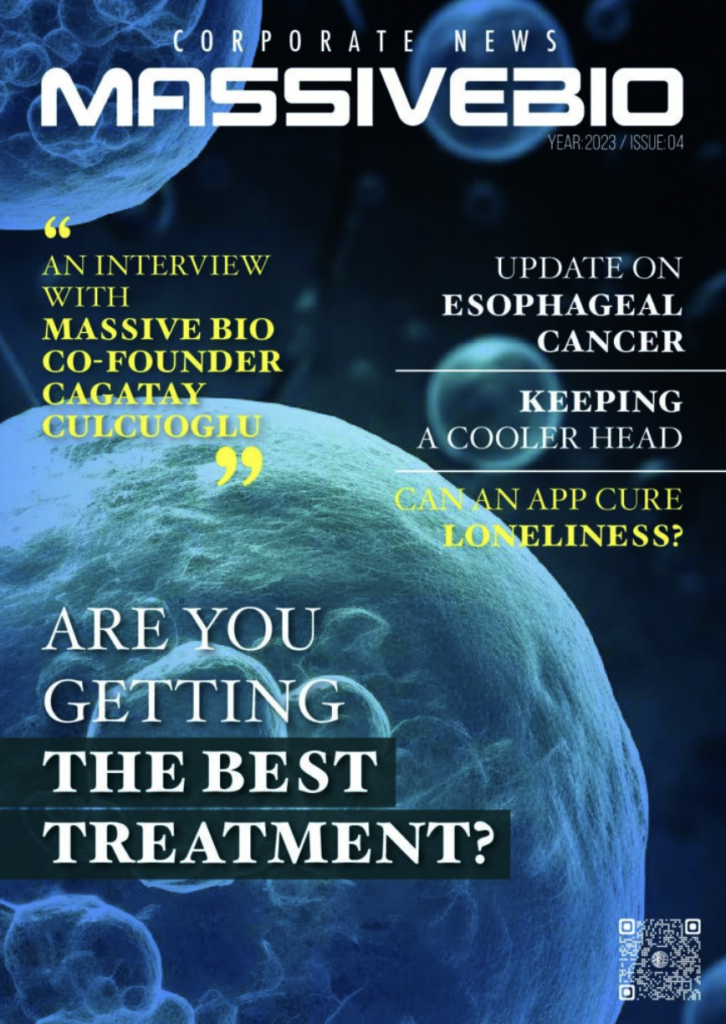 Click to read our magazine now!